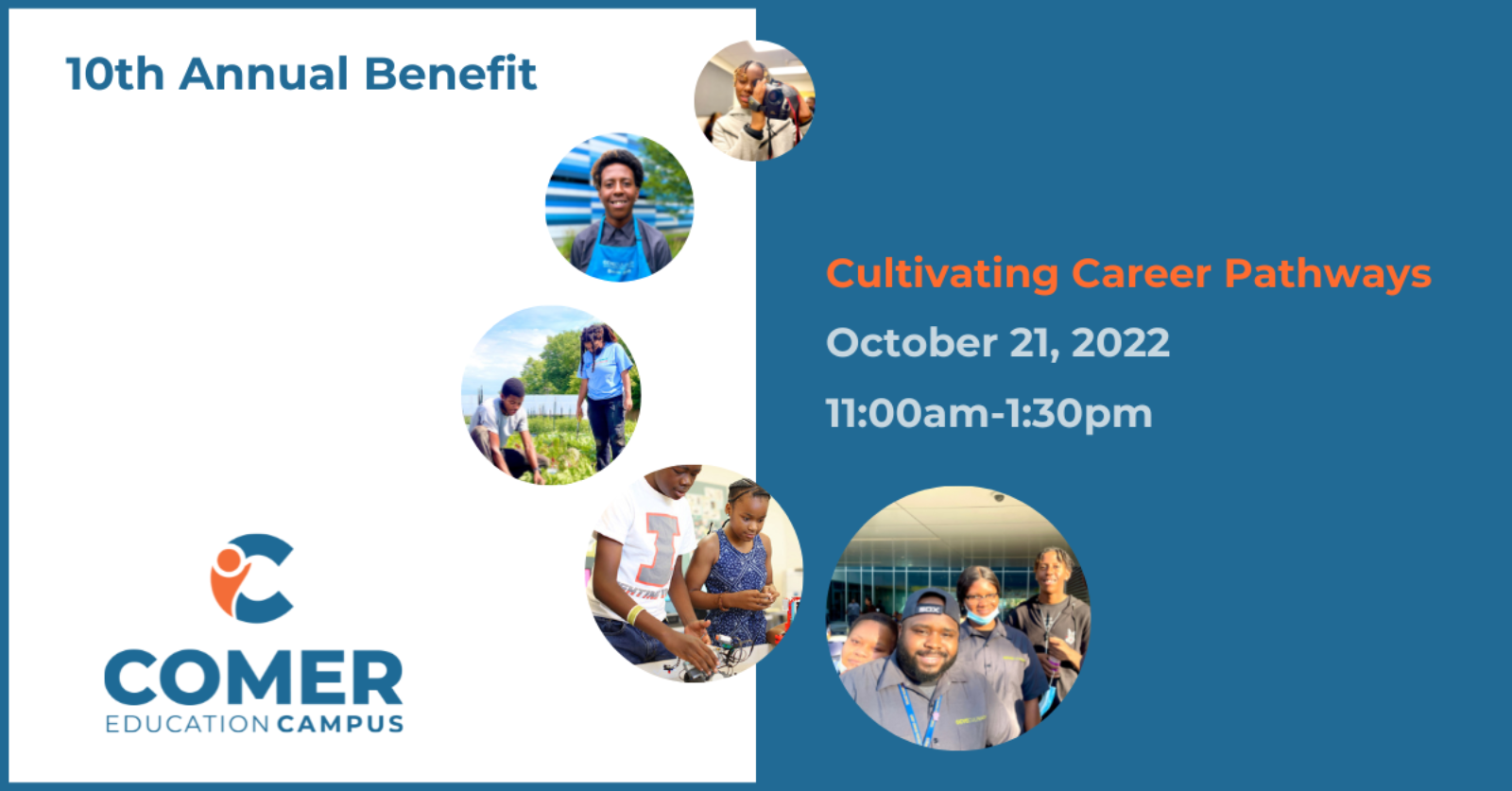 Join Us For A Truly Unique Benefit Experience
Friday, October 21, 2022
11:00 AM - 1:30 PM
We invite you to join us for a special event on our campus to learn directly from our young people how your support enables them to chart their own personal paths to success, impact their communities, and eventually change the world. Tickets are $175 each. If you are unable to attend, please consider making a donation. Every dollar helps us build personalized career pathways for each of the 2,000 young people we serve annually.
There are many ways to invest in our youth & strengthen community on Chicago's South Side.
Our theme this year is "Cultivating Career Pathways" to highlight how we will be expanding our career pathways programming in healthcare (including in our existing urban agriculture and culinary arts offerings), information technology, and vocational trades (e.g. construction). This expansion is critical due to the continued negative economic environment our surrounding community faces even as amazing future job and career opportunities are coming to the South Side of Chicago. In short, we have a unique window of opportunity to position our youth to finally take advantage of positive economic forces for themselves and their families.
---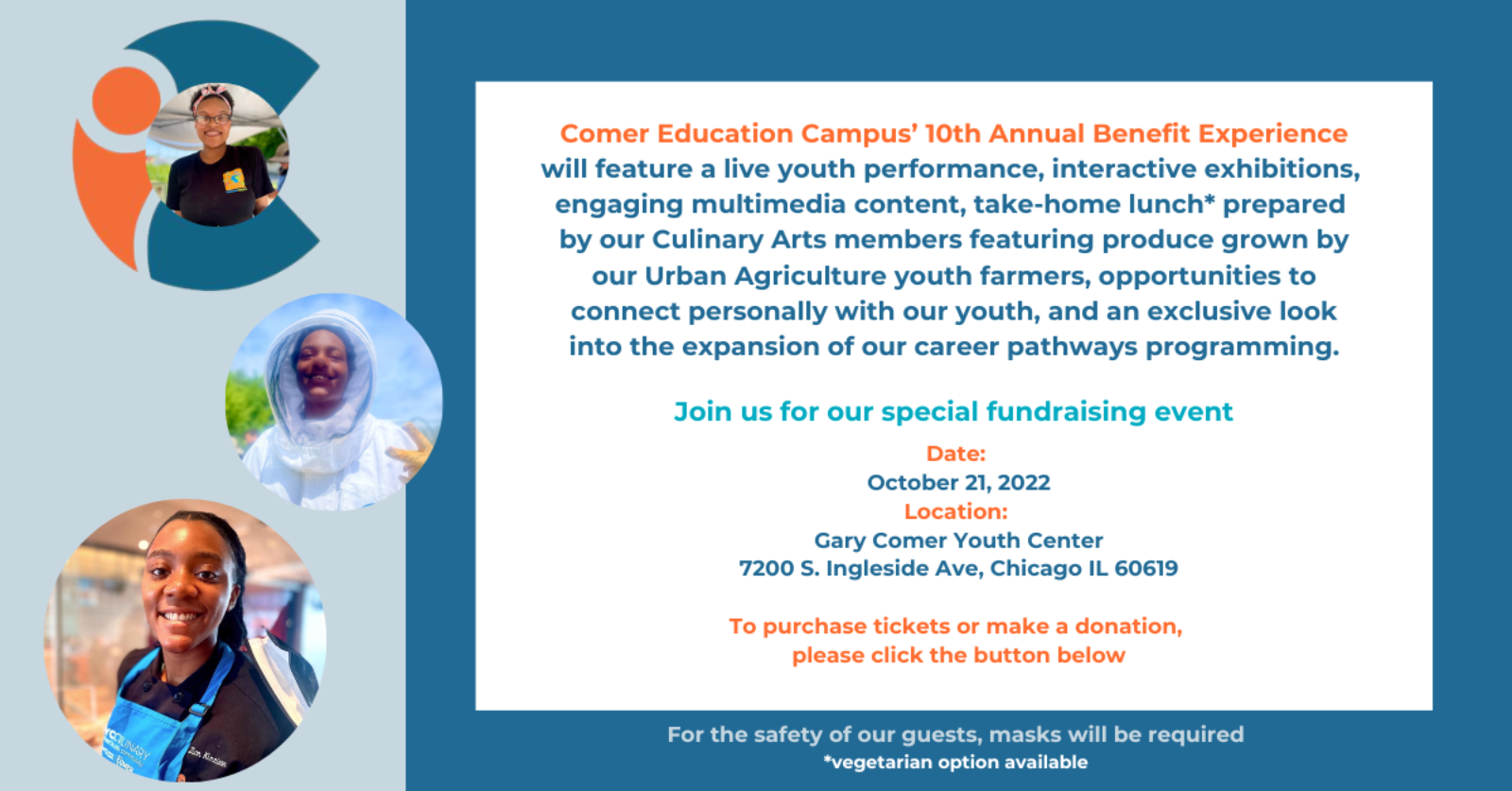 Every day we are incredibly inspired by the accomplishments made by our young people especially during these challenging times. Despite the odds and obstacles in their way, our young people have graduated, been accepted to college, embarked upon career journeys, helped support their families and given back to their communities.
Amidst these many accomplishments, they have expressed interest in expanding their reach and impact even more. Through research shared in our career exposure and discovery programming, they recognize the meaningful impact they can have on their community by exploring Health Care, Information Technology, & Construction Vocational career pathways. As a result, the Comer Education Campus is expanding our career exploration areas to include career pathways preparing young people for success in these high in-demand industries.

Please mark your calendar for October 21, 2022 and share with friends, family and colleagues who we are certain will also enjoy this special event.
---
---
"Only 2.8% of available services in Greater Grand Crossing focus on employment training and nearly one-quarter of residents over the age of 16 are unemployed. Despite these challenges, our community's youth possess an enormous amount of talent, potential, and desire for success. It is our duty to better prepare them to take advantage of the rapid growth in key industries."

—Rhonda Hopps
---
Thank you for your generous contribution and support of our mission. We are honored to work alongside you in preparing young people for college, careers, and futures as well-rounded global citizens.
If you purchased or were provided 10th Annual Benefit Tickets, please click here to share details and preferences for you and your guests on our brief registration form. This information will be used to create your event badge(s). Thank you for inviting your friends and colleagues to what will be a truly special experience by sharing this page.
Whether you will be joining us for the Benefit or not, our life-changing work would not be possible without your help. We hope to connect with you soon!
Thank You To Our Generous Sponsors
Summa Cum Laude ($25,000)